Fiat Panda – the indestructible cheap city-car is fun to drive
When driving in a city centre; especially if in one of Europa's or the UK's most populous metro-areas, a large car is often next to impossible to get around with in tight inner city traffic.
Trying to park a sizeable Volvo or Mercedes is not easy either. Parking nearly always turns out to be expensive as large 'barges' for some reason never fit in normally available spots in on-street parking spaces.
In terms of car rental, prices are to the advantage of the customer for the smallest of vehicles in the city car class. Of course you will pay more in high season, but the average small car hire has become really cheap.
Please see:
Fiat Panda for a week in Lisbon for less than £90 (€99 for 8 days from Interrent).
Today's city-cars measure from approx. 3.50 to 3.70 meters.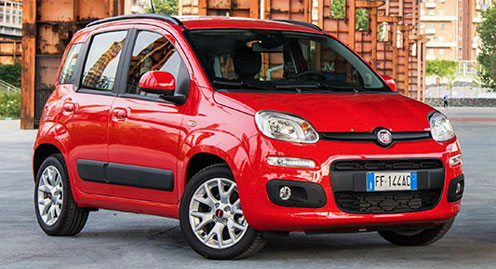 Parking is so much easier with a small city-car – like with the Fiat Panda – please see parking expert video below.
Our recommendations for a great choice of city car:
Fiat Panda 2017 facelift version for high driving position, lots of cabin space, decent boot, good economy, top notch reliability and fun factor
Fiat 500 for its cuteness, sportiness and style, but beware of limited luggage capacity
VW Up! for larger boot capacity and quality – but it is an old model which shows and often only with 60 BHP as rentals. Seat Mii and Skoda CitiGo are virtually the same as VW Up's.
Opel Karl/Vauxhall Viva for its 'big car' feeling, it is a newly launched model with lots of standard equipment – 75 BHP engine (all models) not its best feature though
Hyundai i10 – for the high quality and clever solutions applied
Also good choices, but not our best recommendations in this class:
Toyota Aygo – super quirky design
Kia Picanto – lots of sensible solutions, but an aging car model
Citroen C1 – an Aygo with another name and less quirkiness
Peugeot 108 – another Aygo with yet another name and even less quirky than the C1
Ford Ka – not bad, but everybody wants the Fiat 500 still – and we do too
Lancia Ypsilon – 5 doors interesting small hatch with a luxury flair to it
Renault Twingo – the oddball newcomer due to rear engine layout like in a Porsche 911
Smart ForFour – Renault Twingo-clone if you think 'Smart' is a good name for a car
This is why Fiat Panda is such a good car
For the 2017 model range, the Fiat Panda received an upgrade to the interior with better materials, there was a new choice of colours (of course) and the car is just so well-trailed and tested, that it might just be the most reliable city car around.
Test of Fiat Panda.
All talk of Fix-It-Again-Tony Fiats does not apply to the Panda, nor does it to the equally simple and well developed Fiat 500.
Fiat still manages to sell new Fiat 500 at premium prices whereas the Panda is slightly more affordable. Please click on the link above to see our test and recommendation of the Fiat Panda.
Boot space and luggage capacity in a city car
By far largest drawback of any city-car is the very limited size of the boot with all seats in use.
If you take the Fiat Panda, it's not at all bad with 225 litres, but some models fare better in the boot size department.
The popular treblings VW Up!/Skoda CitiGo/Seat Mii can muster 251 litres of luggage space, the new Vauxhall Viva/Opel Karl comes in at 206 litres of boot space, the Hyundai i10 takes 252 litres in the trunk, but if you're handed the keys to a Fiat 500, don't expect to stuff more than 185 litres of your belongings in the tiny back of this cute car.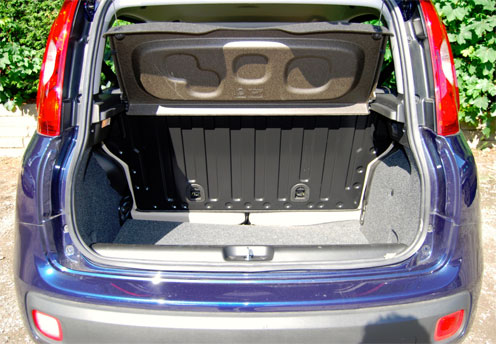 The Panda boot-size – not big, but very easy to pack.
Vehicles grow in size
From the late 1990's, all car models started to grow out of their 1950s, 1960s and 1970s small shoes.
The 'big is better' mantra for car production went on and on. All of a sudden, in the 2000s, for instance the standard VW Golf had reached the size of a 1974 VW Passat.
From Japan, the Toyota Corolla year 1998 was a closer fit in measurements with previous Toyota Carina's or Crown top models, than with the original small Corolla's from the 70s.
The most extreme example of the size-up trend will have to be the Mini. In 1979, the length of a Mini was exactly 3.3 meters. The name described the car – and the car was the name. All modern city cars owe a lot to Sir Alec Issigonis ground-breaking invention from 1959. With the Mini, the class-less car was born.
In 2017, the smallest Mini takes up 3.82 meters of parking, and if you go for a quirky Mini Clubman with 6 doors, you are looking at 4.25 meters of car. Fact: The Mini is no longer a city car (it's too expensive as well), but has moved closer to the super-mini class with competitors like the Ford Fiesta.
Enter the City Car – back to basics with the Fiat Panda
In the 2010's the mini-car or city-car or to some people now the micro-car, was reinvented.
The VW Up! started out as class leader in 2011 with the uprated Fiat 500 (better handling from 2010) as a more expensive, but also much more popular car in countries like Italy and Britain.
The current Fiat Panda dates back to 2012, and with the new model, assembly moved from Poland to Italy.
Any city car is nippy and cheap to run. You can park it almost everywhere and it does not break the bank buying a new one. In fact the city car is available with financing that makes it about as expensive as a top-of- the-range television set.
Fiat Panda is produced at the Fiat Pomigliano d'Arco factory in Naples; that is the car is no longer produced in the same facilities, but still basically from the same underpinnings, as the Fiat 500, the Ford Ka and the Lancia Ypsilon city cars.
Denmark – the city-car country of Europe
City-cars are evolving fast into quite capable vehicles not only suitable for city driving. In fact most of them are increasingly able cars on the open road and on long trips, and more and more people do just that.
In the high income country of Denmark, the city-car is the second most popular vehicle type with more than 20% of sales in this segment. Only the slightly larger super-mini cars are sold in larger quantities in Denmark.
Massive Danish taxation of higher value vehicles and focus on fuel economy have brought many Danes to use their VW Up!, Peugeot 108 or Vauxhall Viva (Opel Karl) as their daily commuter over 20, 40, 60 miles or more. Lots of Danish families even have two of the small fuel- and tax-efficient run-abouts with maybe a larger and usually older people-carrier lingering in the drive-way for weekend family use.
Parking a city car in as small space
If you want really easy parking, you should go for the Smart ForTwo car which is so short that it can fit into most 'half' parking spots nose-first.
The Panda's more stylish relation: the Fiat 500 is also easy to fit in tight spaces. Nobody does it better than the stunt driver below:
City-car parking challenge.