Lisbon Airport car rental of cheapest car available – Interrent experience and review
The booking of the car in Lisbon Airport took place quite late.
Lisbon Airport car rental – compare prices and book a car
We wanted a cheap run-about – in fact we wanted the cheapest hire car available. But our planning was slow. 5 days before the car rental at Lisbon Airport was to commence, we had not pulled ourselves together to make a booking.
Prices were absolutely fair, though, with hire car company Multiauto being the cheapest at €99 for 8 days in Lisbon in the very beginning of September.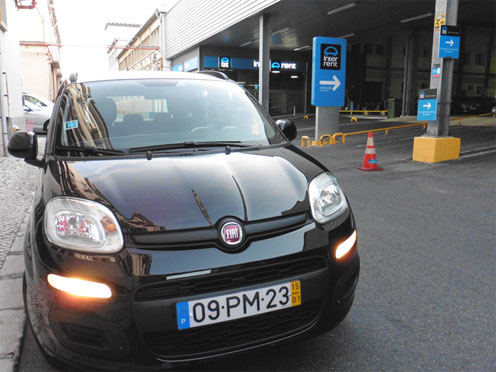 Interrent premises in Lisbon Airport – well, actually nearly 2 miles (2,5 km) from the airport. © Photo: Lisbon-cheap-car-hire.co.uk
In fact, the rental car rates quoted was a pleasant surprise as we knew from www.find-cheap-car-hire.co.uk quoting the British Post Office that Portugal was far from being the cheapest location to rent a car in the summer of 2015. In fact it was surveyed to be the most expensive.
The days passed, and first on August 30th, a booking was secured for a rental car as cheaply as possible in Lisbon Airport. In the meantime, the Multiauto offer had expired and car rental company Interrent had the cheapest offer at €101 for 8 days.
With a few clicks and a credit card, the booking was made on what was supposedly a Renault Twingo. Not so in real life, however, as Interrent and the company 'mother ship' Europcar mainly use VW Up! and Fiat Panda cars in the super-affordable city car class.
But all right – when booking the car, it had said 'or similar' and a Fiat Panda, as the car turned out to be, was close enough.
Off-site rental – common with low cost providers in Lisbon Airport
Office and parking spaces are expensive in the privately run airport on concession from the Portuguese state. The French company Vinci took over Lisbon Airport in 2014.
When booking the cheapest car in a given car class, you were always likely to end up with a car from one of the low cost providers in Lisbon Airport – and since Vinci came in as owner, you're even more likely. Low cost car rental in Lisbon Airport is, usually, with off-site parking and rental office.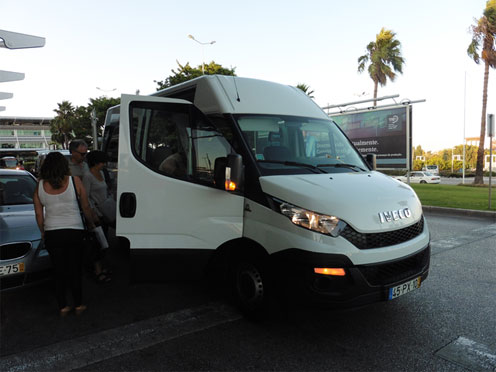 The shuttle bus taking customers to Interrent, Lisbon Airport. © Photo: Lisbon-cheap-car-hire.co.uk
There are no real drawbacks with off-site car rental providers except that you are bound to spend some (more) time picking up the car and handing the car back – than when renting from one of the companies with permanent offices within the Lisbon Airport Terminal 1 (on-site companies Avis, Hertz, Sixt, Europcar, Guerin, Enterprise, National and Alamo).
With a quoted rental price of only €101 for a full 8 days, it was still a remarkably cheap rental car deal given the fact that pickup took place on September 1st – still pretty much high season in Portugal in anybody's book.
The pick-up by shuttle bus in Lisbon Airport
The meeting point for the shuttle bus pick-up is on the second row parking on the right hand side of the main parking. Please see sign posting below: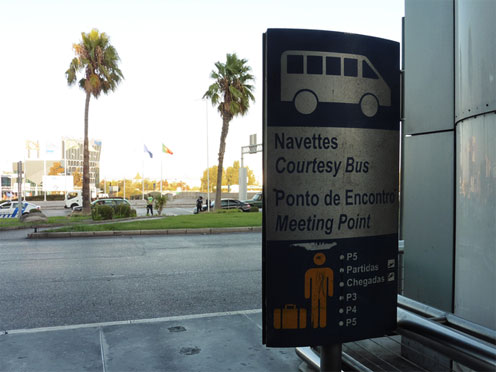 Lisbon Airport parking for shuttle busses. © Photo: Lisbon-cheap-car-hire.co.uk
An Interrent representative is on-site to register you (customers with Interrent bookings) already inside Terminal 1 close to the exit of the terminal – that is the exit to the right of the tourist information when leaving the airport. The representative will guide you to the pickup point/shuttle bus stand.
The waiting for the shuttle bus can take half an hour, and driving to the nearby Interrent office and processing paperwork is, usually, another half hour.
Drop-off at Interrent Lisbon – be sure to catch your plane
If you are not sure about the location of Interrent Lisbon Airport, you best ask staff how to find the rental station as the Interrent rental vehicle must be returned to the same location, which is on the address Av. Mal. Gomes da Costa, 1800-255 Lisbon.
Please note that the shuttle bus service does not start before 07.30 a.m. at Interrent (first run going to the airport from the Interrent compound), which means that any plane leaving earlier than 09.30 from Lisbon Airport, you will not be sure to catch after returning your Interrent rental car.
In particular, if you have a TAP flight, early morning queues at Lisbon Airport luggage drop-off can easily be 1-1.5 hour long.
The car rental experience with Interrent – review of driving the Fiat Panda
The Fiat Panda is a bit of a 'Mr Noddy-car', but it does have its own kind of charm.
Top Gear presenter James May used to own one – to the amusement of his co-presenters, who made a point of the few knobs in the Fiat Panda additional to the one behind the wheel.
The Panda is a pleasant experience although the cheap and cheerful seat covers can come across as plainly hideous.
The car, however, drives well and does not feel (much) under-powered. If anything, the Panda feels bigger than it is with good visibility due to the uplifted driver and front passenger positions. From the driver's seat, you are, in fact, looking down on much larger cars like full size Merc's and BMW's
Fuel economy is excellent with well below 6 liters per 100 km (more than 47 mpg).
The Fiat Panda is very easy to park with its 'boxy' dimensions. You get 5 doors standard and 225 liters of luggage space, which is not bad for a city car, but as a holiday commuter for more than 3, the Panda quickly becomes to slow and too small.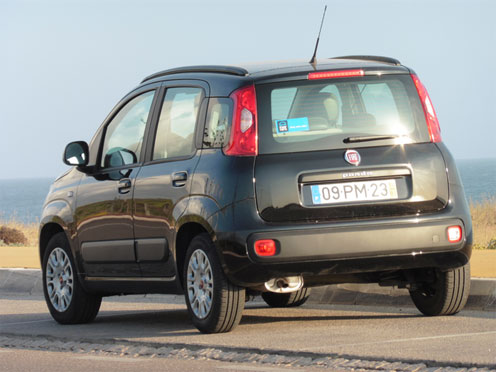 Our black Panda at the seaside in Cascais. ©Photo: Lisbon-cheap-car-hire.co.uk
Interrent staff turned out to super-polite and helpful. No low cost service was to be found here.
The pick-up of a black car is always a bit tricky as any scratch will be visible in sunlight whereas not much can be seen at rental vehicle checkout at dusk. We got a 2015 reg. car with a bit of use already, but all exterior bits and bobs not 100% as new were registered and we got a clean sheet when returning the car – except for scratches that were already present.
This is extremely important when renting from low cost rental companies as profit margins are small and management pressure to find 'damages' on customers' cars is on the increase.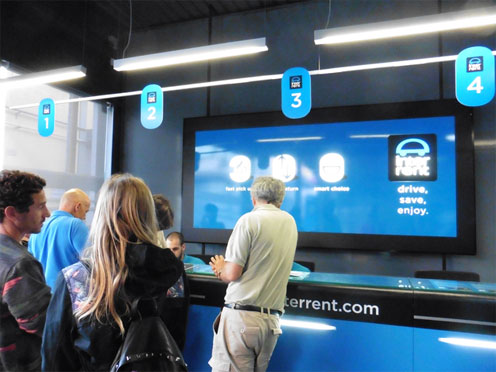 At the counter at Interrent, Lisbon Airport. © Photo: Lisbon-cheap-car-hire.co.uk
In fact we were not even charged the €15 airport fee which was noted in the contract as an obligatory fee to pay locally at Interrent – probably a misunderstanding, but at the time, we did not think about it.
The airport fee in Lisbon airport is a new measure since the off-site companies are charged by the airport, the customers are charged (a bit more) accordingly.
The total verdict of the Lisbon Interrent experience is very favorable. If you have the time available to be ferried back and forth between the off-site rental car company and Lisbon Airport, there is a healthy saving waiting for you.
Next door to Interrent at Avenida Mal. Gomes da Costa, we noticed the premises of competitor Multiauto.