Lisbon connection from Luxembourg with Luxair – fly to LIS and rent a car
Luxembourg based Luxair Luxembourg Airlines is to start flights to Lisbon from Luxembourg in spring 2014.
Compare Lisbon car rental rates
Lisbon-Luxembourg flights 3 times per week
As of April 2014, Luxair will operate three flights per week Monday, Wednesday and Thursday/Friday from Luxembourg Airport to Lisbon and back to Luxembourg on the same day.
All connections take off in the afternoon with the latest plane from Lisbon to land in Luxembourg Airport at 22.35 on Wednesdays and Thursdays (late October until April) and Fridays (May until Mid-October).
The new Luxembourg flights to and from Lisbon will be convenient for the large number of Portuguese working and living on a permanent basis in Luxembourg. Around 80.000 Portuguese or people of Portuguese origin are estimated to have settled in Luxembourg.
See also: Ryanair opens routes to Lisbon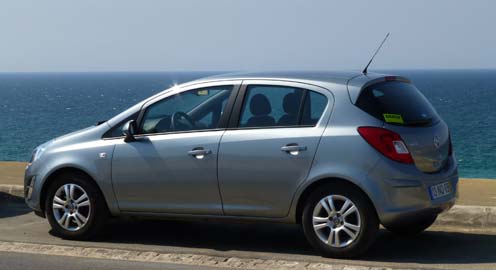 Opel Corsa rental car from Lisbon Airport © Photo: Lisbon-Cheap-Car-Hire.co.uk
Return flights from €99 Luxembourg-Lisbon
The new Luxair connection from Luxembourg to Lisbon can be booked in October 2013 for as little as €99 euro for a return flight Lisbon-Luxembourg. A meal or a snack is included in the rate.
This makes the new Luxembourg route to Lisbon one of the cheapest flights from Portugal to Northern Europe.
Luxembourg Airlines baggage allowance
With Luxembourg Airlines, you can bring 23 kilos (offer per October 2013 – later probably 20 kilos) in a checked-in suitcase free of charge.
Additionally one piece of hand luggage up to the weight of 7 kilos can be carried on the Luxair plane (economy class).
Luxair routes to Portugal
Luxair is increasing the number of flights to Porto Airport from Luxembourg from 3 to 5 as from November 2013.
Stockholm and Dublin Airport has been added as new destinations from Luxembourg in spring/summer 2014.
Car rental in Lisbon Airport – reserve cheap car rental
Lisbon is amongst the cheapest places in Europe to rent cars.
In the low season, you will frequently be able to book a Ford Fiesta, Opel Corsa, Seat Ibiza, VW Polo or similar small family car (supermini) for under €100 per week of Lisbon cheap car hire.
In fact, rates below €80 or even below €70 for 7 days of Lisbon Airport car rental is not uncommon in the winter months.
For Christmas, Easter and of course the summer high season, please be aware that rental prices are likely to increase considerably in Lisbon Airport – and take care that you book well in advance; especially with car bookings for the festive seasons.
Compare offers from all car rental companies in Lisbon Airport: Avis Lisbon car hire, Hertz Rent-A_Car Portugal, Sixt Lisbon, Auto Jardim, Guerin, MultiAuto, Goldcar and more with Cartrawler Portugal