Lisbon Airport see the arrival of low cost carrier Ryanair
After long negotiations and years of anticipation, the Irish low cost airline Ryanair is finally arriving to Lisbon Airport in Portugal.
The first Ryanair flights to Lisbon will take place on the 26th of November 2013.
For more information about cheap car hire, please go to
price comparison for car hire in Lisbon Airport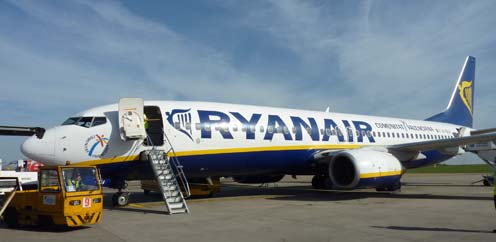 Ryanair plane in Portugal © Photo: Lisbon-Cheap-Car-Hire.co.uk
Lisbon Airport – Ryanair route from London-Stansted
With initially four Ryanair routes to Lisbon from the airports of London-Stansted, Frankfurt-Hahn, Brussels-Charleroi and Paris-Beauvais, in total Ryanair will operate some 50 weekly flights to and from Lisbon Airport – LIS.
Out of the 4 new Ryanair Lisbon connections, the London-Stansted to Lisbon schedule will be far the most comprehensive.
From London-Stansted, a plane will leave for Lisbon every day at 07.15 in the morning and another flight will be heading from Stansted to Lisbon departing at 17.50 in the afternoon.
The 14 weekly flights to Lisbon from Stansted-London will create quite an additional capacity from the London area to the Portuguese capital. Introducing this many flights for the winter season is quite a bold move by Ryanair who has great expectations for Lisbon.
Ryanair already operates flights out of Faro Airport and Porto Airport in Portugal.
Ryanair Paris-Beauvais route to Lisbon
The new Ryanair Paris-Beauvais route to Lisbon Airport will be catering for the approximately 250.000 Portuguese citizens living in Paris – as well as the many French tourists to the Portuguese capital.
Paris is, in fact, considered the second largest Portuguese city after Lisbon. If compared with the center of Porto (Portugals 2nd largest city in Northern Portugal), Paris holds more people of Portuguese origin.
Ryanair Brussels-Charleroi route to Lisbon
The French speaking southern part of Belgium borders with Luxembourg.
In Luxemburg, the Portuguese community makes up about 15% of the total population. Quite a lot of the approximately 80.000 Portuguese or people with Portuguese origin in Luxembourg have dual nationality.
With the new Ryanair route to Lisbon from Brussels-Charleroi Airport in Belgium, most of the Portuguese diaspora in Luxembourg will have less than a two hours' drive to the airport in Brussels.
Ryanair route to Lisbon from Frankfurt-Hahn
In a distance of approximately 120 km from Frankfurt, the small airport of Frankfurt-Hahn is a well-developed Ryanair destination.
The former NATO airport is situated only about 100 km from the border to Luxembourg and as such the Frankfurt-Hahn to Lisbon Ryanair connection will be catering to the large Portuguese community in Luxembourg and the numerous Portuguese citizens in the German states (Bundesländer) of Hessen, North-Rhine-Westphalia and Rhineland-Palatina alike.
Lisbon as a holiday destination
Lisbon is amongst the most popular city holiday destinations in Southern Europa.
With a warm climate similar to that of Southern California, holiday makers can rely on a good number of hours with sunshine in Lisbon even in the winter months.
The lively capital of Portugal never sleeps and the possibilities for enjoying a stress-free holiday or extended weekend in Lisbon are plenty. On top of the numerous attractions and historically interesting sites, Lisbon has one of the lowest average prices for hotels, entertainment and service. Going to a restaurant in Lisbon will not break the bank and there is an abundance of eating places to choose from.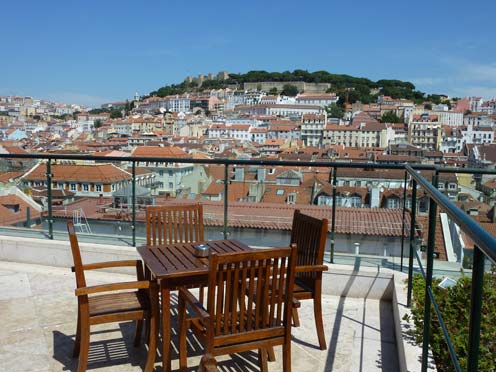 Lisbon seen from the top of the Hotel Chiado © Photo: Lisbon-Cheap-Car-Hire.co.uk
Ryanair prices to Lisbon – Stansted-London flight
Ryanair has announced that prices for one-way tickets from London-Stansted to Lisbon will start from €25,99 or approximately £22.
Lissabon car hire outside peak season (Lisbon Airport)
Outside the summer months of June, July and August, car hire in Lisbon Airport often becomes very affordable.
In fact, you can be lucky to pick up car hire deals from Lisbon from as little as €60-70 per week; the equivalent of only £50-£60 per week with free mileage included and frequently with free cross border travel to Spain.
With Lisbon Airport car hire, you have the choice of a large variety of vehicles. Quite often, the Ford Fiesta size supermini car rental class is the most advantageous choice.
Compare Lisabon Airport car hire prices with Cartrawler Portugal