Monarch's collapse affects Lisbon, Porto, Faro and Madeira Airports
With Monarch Airline going into administration, a large number of passengers on major airports in Portugal saw their flights cancelled.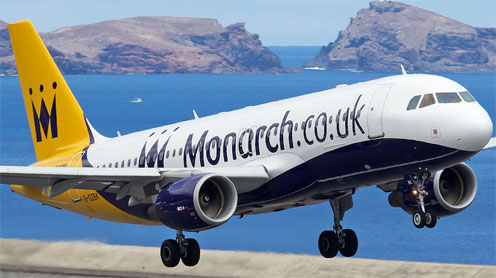 Monarch airplanes no longer to be seen on European airports.
The collapse of one of the oldest UK carriers was announced on October 2nd, 2017, with around 110,000 passengers stranded across Europe, as the airline suspended of all its operations. Monarch, founded in 1967, targeted the main leisure destinations in Southern Europe, on scheduled and charter flights.
In Portugal, the airlines was present at the three main continental airports – in Lisbon, Porto and Faro – as well as in Funchal, on the island of Madeira.
As per 2 October 2017, the following Monarch routes in Portugal are cancelled:
Lisbon Airport:  Manchester, London-Gatwick, Birmingham
Porto Airport: Birmingham, Manchester and London-Luton
Funchal Airport (Madeira): Birmingham, Manchester, London-Gatwick
Faro Airport: Birmingham, Leeds/Bradford, London-Gatwick, London-Luton, Manchester
None of the above routes was exclusive to Monarch and it is to be expected that the competition will quickly step in and benefit from the situation.
In the meantime, the Airport of Faro, the main gateway for the UK holidaymakers to the holiday region of Algarve is the most affected, as 66 weekly Monarch flights are cancelled (out of the total of 128 weekly flights to Portugal). In the second trimester of 2017, Monarch was the fourth biggest carrier at Faro Airport, after Ryanair, Easyjet and Jet2.
The airline's demise leaves 10,000 UK passengers in need of an alternative transportation. The CAA (Civil Aviation Authority), which has taken over Monarch, is currently organizing replacement flights for the British citizen abroad. The 'rescue' mission is estimated to cost £60 million.
There is no clear protocol for the Monarch passengers who have booked future flights. While those who paid by a debit or credit card will most likely be able to reclaim the cost of the air fare, refunds for accommodation, car hire, or other services associated with the flight, might be much harder to obtain.