Lisbon car rental discount – book on April 30th 2014 and get up to 20% discount on your Lisbon rental car rate
If you're looking for a holiday car in Portugal, please note the date 30th of April.
On the 30th of April 2014, you have the opportunity to book your rental car for your summer holidays in Portugal including Madeira at a discounted rate.
Cartrawler Lisbon – Compare car rental prices online
Lisbon discount car rental – save up to 20%
At selected rent-a-car companies in Lisbon Airport, Faro Airport, Porto Airport, Funchal Airport (Madeira) and at rental stations around the country, savings up to 20% are available.
Car bookings at sale prices have to take place on April 30th using the Cartrawler search engine at www.lisbon-cheap-car-hire.co.uk. Car rental offers with discounts are available on the 30th of April only for Portuguese destinations.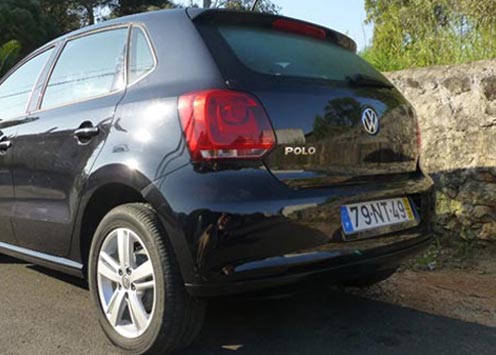 The VW Polo 'Match' from Guerin car rental in Lisbon.
Please note that pick-ups before May 6th are excluded in the April car hire sale.
Some rental companies may not participate in the campaign and at some locations in Portugal, rental cars with discount may not be available. Other limitations in the April Sale apply. Please see Cartrawler April Sale Terms & Conditions when booking.
Popular rental cars in Lisbon in 2014 – cheap VW Polo car hire
A fairly large number of rental companies in Portugal have recently purchased VW Polo for their fleet.
The attractive supermini has sufficient space for a family of 4-5 people with luggage. This makes the VW Polo one of the best offers for a small family car rental in Lisbon. Amongst the Lisbon car rental companies offering VW Polo are Europcar, Guerin and various other suppliers.
Please note that suppliers always stipulate that 'a similar' vehicle can be supplies, but at Europcar and Guerin, chances for getting a new or almost new VW Polo is high.
Interesting rental car saving: If booking a Lisbon Europcar supermini (often advertised as a VW Polo or similar), you are likely to get a diesel-version of the Polo without extra cost.