Cheap Lisbon Airport car rental outside high season
The 2013 summer tourist season in Portugal was better than expected.
Calculate price for Lisbon Airport car rental
Car rental companies were experiencing very high usage of their fleet and especially in the month of August 2013, the shortage of cars for hire in Lisbon became apparent and prices went up to 50-80% over normal summer Lisbon car hire rates.
Lisbon car hire October-November-December-January-February-March
Already in September 2013, however, business in Lisbon was back to normal and in October, the car rental companies are struggling with covering the fixed costs of too many cars in the fleets, hence car rental rates in Lisbon and especially car hire prices in Lisbon Airport are hitting rock bottom levels in the last part of year 2013.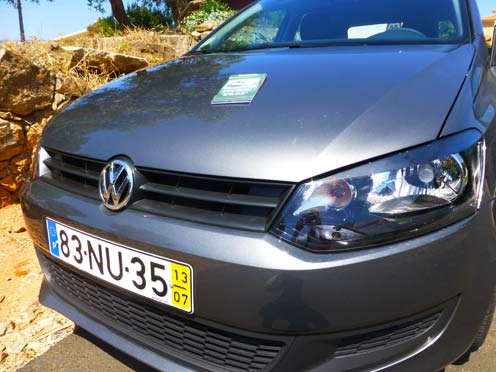 Europcar Lisbon hire car VW Polo TDi © Photo: Lisbon-Cheap-Car-Hire.co.uk
Additional to the unusual low prices, the selection of cars available at Lisbon Airport car hire companies is better than previous years.
Gone are the vast fleets of Hyundai's, Kia's, Chevrolet and other slightly inferior rental cars. Instead companies like Europcar, Hertz, Sixt, Goldcar and Guerin have invested in brand new VW, Opel, Renault, Fiat, Citroen, Peugeot, Ford and even a few Mini and Alfa Romeo rental cars in the most popular rental classes of cars.
Only in the cheapest citycar/microcar car rental class, you will still be able to find the odd Hyundai i10, Chevrolet Spark or similar.
Especially the recent take up of offering brand new or nearly new VW rental cars has been quite impressive in Lisbon Airport.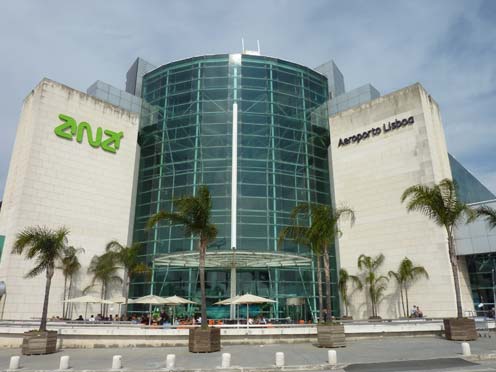 Lisbon Airport picture © Photo: Lisbon-Cheap-Car-Hire.co.uk
Save money on Lisbon Airport car hire
For the autumn, winter and most of spring 2014, the cars for hire in Lisbon Airport are discounted substantially compared to normal rental rates.
Using the Lisbon Cartrawler search engine, truly amazing rental offers are available:
Price examples rent a car Lisbon Airport:
A week of car hire (7 days) from Lisbon Airport in October (car rental period in October) could be:
VW Up (new model) from £54/€64 per week – yes, per week – in Singapore this could be the price per day.
Renault Clio 5-door with a/c from £56/€66 per week
VW Polo 5-door with a/c from £57/€67 per week
Ford Fiesta Diesel 5-door with a/c from £66/78 per week
VW Golf 5-door with a/c from £80/€95 per week
Ford Galaxy 7-seater (large MPV family carrier), auto a/c from £265/€314 p/week
Renting a car for Xmas in Lisbon Airport
Booking a car in Lisbon Airport for Xmas is slightly more expensive, but still affordable.
The below price examples below are for the booking period of 19th December 2013 to December 26th 2013 (7 days Lisbon Airport Xmas car rental)
Peugeot 107 from £76/€90 per week – car has a/c and 3 or 5 doors
VW Polo 5-door with a/c from £83/€98 per week Xmas 2013/2014
Ford Fiesta Diesel 5-door with a/c from £89/€106 per week – Xmas 2013/2014
VW Golf 5-door with a/c from £111/€131 per week
Ford Focus stationcar 5-door, a/c from €116/€137 per week Christmas rental 2013
Mercedes minibus for 9 people (including driver), a/c, from £290/€342 per week
Ford Galaxy 7-seater (large MPV family carrier), auto a/c from £309/€365 p/week
Compare Xmas rental car rates in Lisbon Airport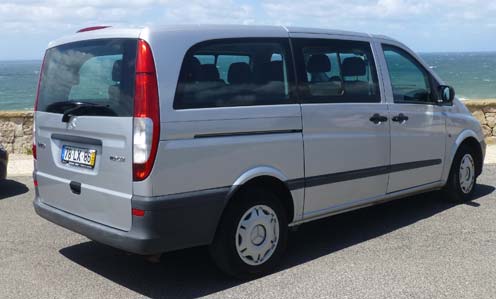 Mercedes minibus hire car © Photo: Lisbon-Cheap-Car-Hire.co.uk
For the more expensive vehicles such as the Mercedes minibus and the large MPV, it is strongly advisable to book Xmas rental as early as possible to save money. In October, the Xmas rental rates for 6, 7 or 9-seater cars for hire in Lisbon Airport are still very affordable.
---
All prices above were available when booking on October 6th, 2013. Please note that availability can change, and the car hire rates are subject to change with fluctuations in supply and demand.
All car offers mentioned above had free mileage and full insurance (CDW and TP) included in the rates. The excess on the insurance ranged from €750 on the cheaper cars to €2000 on the most expensive rental vehicle. Some cars had additional free (extra) driver included in the rate.
The Xmas minibus car hire offer (Mercedes minibus or similar) was particularly well priced and with only €1200 excess on the insurance.
The supplying companies in the pricing examples above included Multiauto (local supplier), Drive4Less, Budget, Hertz Rent-A-Car Lisbon, Drive On Holidays (Lisbon Airport) and Europcar Car Rental. When using the search function above, Cartrawler Portugal also compares rates from Sixt, Avis Rent-A-Car, Guerin, Auto Jardim etc.
Please note that when booking a rental car in Lisbon Airport, the supplying rental company is entitled to hand out keys to the exact model booked or a similar car model in the same rental class and with the same equipment (number of seats, a/c or similar).