Low-cost parking Lisbon Airport
The main airport of Portugal offers a wide range of budget parking solutions. Travellers flying out from Lisbon Portela Airport (which is the official name, very much in use amongst the locals) may choose between the official low-cost car parks, managed by ANA Aeroportos de Portugal, the airport's authority and parking facilities operated by independent companies.
ANA low-cost car park areas Lisbon Airport
In late 2015 there were two official low-cost car parks in Portela: the P5 Low-Cost park and the P3, designated as a 'Low-Cost Pus' park.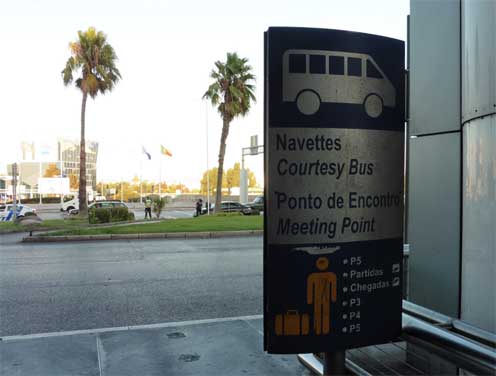 The free of charge Navettes shuttle bus service connects the terminal of Lisbon Airport to the most remote car park areas. ©  Foto: Lisbon-cheap-car-hire.co.uk
Although  rather distant from Terminal 1 (the main terminal of LIS airport) both low-cost parks are very popular amongst the frequent travellers at Lisbon Airport due to the very appealing prices. Rates starting from 5 euros per day make up for the inconvenience of budget parking: the distance to the terminal and the fact that it only provides the basic services. The main characteristics of Lisbon Airport cheap car parks:
Low Cost Parking P5. Located in approximately 8 minute walk distance from the terminal (10 minutes by the airport shuttle), P5 is the cheapest parking in Lisbon Airport. Only online bookings are permitted. Open air parking, with prices starting from EUR5/day.
Low Cost Plus Parking P3. Located closer  to the terminal, this open air parking is still not an ideal solution for passengers travelling with a substantial amount of luggage or, for example, small children – at least 5 minute walk is required to get to the departures hall. The parking is served by the airport shuttle. Daily rates may be as much as twice the price of the cheapest parking, however, still considerably lower than in case of other car park areas.
Lisbon Airport – cheap parking from independent operators
If a slightly longer distance and transfer time does not seem much of a hassle for you, a variety of unofficial car park facilities are available in Lisbon Airport area. Low rates and a range of additional services are offered by several competing independent operators. Below are listed some of them:
Easy Parking Lisbon Airport. The facilities of this private car park company are situated in Prior Velho area of Lisbon, in direct vicinity of Lisbon Airport, at the address Rua Salgado Zenha (the location shared with some of the off-site airport car hire providers). Daily rates vary between EUR 4 for open air parking and EUR 6 for covered parking. Valet parking, cleaning, re-fuelling and vehicle inspection services are available at additional cost. Transfers between Easy Parking facilities and the airport are free of charge.
Aeroporto Parque Lisboa. Located in the same area of Prior Velho, the Aeroporto Parque Lisboa has also a very similar offer to the one of Easy Parking. Open-air parking rates from EUR 5/dia, covered parking, costs from 6 EUR/day. Free shuttle bus transfer to the airport and back.
Lisboa Park. Low-cost parking near Lisbon Airport, just off Calçada de Carriche and near Eixo Norte-Sul expressway, approximately 10 minute drive away from the airport. Daily rate for covered parking – 5 euro. Complimentary transfers to the airport, as well as delivery and pick-up of cars at the airport.
Parking at the airport vs. public transportation
Leaving the car safely parked at the airport may make a lot of sense for those who live far away from the airport and travel for short to medium periods of time. The daily rate of 5 euros for parking at Lisbon Airport will hardly amount to more than the cost of a return trip by taxi from anywhere else then the direct vicinity of the airport. As an example: the average taxi fare between Cascais (favorite location for foreigners in Lisbon area) and the airport is 40 euros, which itself covers 7-8 days of low-cost parking. Multiply it by two (return trip) and you will actually save money by parking at the airport during your two week holiday, instead of taking a taxi.
There is not much economy in this solution, however, should you travel for extended period of times or opt for more expensive parking options at Lisbon Airport (regular, premium or executive).
The cheapest option is naturally public transportation. Lisbon Airport is directly connected to the city's underground network. If you don't mind switching between metro and suburban train the route used in the example above, Cascais – Lisbon Airport, will cost you only 4 euros. You should count, however, with around 1 – 1.5 h commuting time.