Volkswagen Passat as rental car (new 2015 model B8) 4-door and station wagon
The newest edition of the Volkswagen Passat, also known as model B8, was released in October 2014 for private customers to purchase.
The rental companies are starting to catch up, offering rental VW Passat cars of the new model. It is assumed, that during 2015 and 2016, the number of car rental companies, who acquire the Passat as a rental car will increase.
The new model has several new interior and exterior features. Inside, Volkswagen has added important new features as standard equipment.
One of the new inventions that is now part of the standard VW Passat B8 equipment is an automated emergency brake – City Emergency Braking, which detects the risk of a forthcoming collision, and applies the brakes in case the driver does not react.
Another important new feature on the list of standard Passat equipment is a digital display implemented in the centre console.
The display shows information from the digital systems of the car including GPS maps. The driver also has a digital screen behind the steering wheel, showing speed, engine revs and if GPS is part of the options pack, also navigation information. Features like park assist and trailer assist etc. are also available, to be ordered as extras.
The exterior of the Passat has also been updated, although gently. The Volkswagen has undergone a facelift, where the front is very similar to the Passat CC Coupé, giving the new model a more luxurious look. The rear end of the new VW on the other hand, has not experienced any changes in design.
The new front design is looking more stylish and luxurious, which signals that Volkswagen aims to compete more with the premium German cars in the same class; Audi's A4, BMW's 3-series and Mercedes-Benz' C-Class.
The other competitors of the Volkswagen include the Japanese models Mazda 6 and Toyota Avensis together with the French Renault Megane, Peugeot 508 and Citröen C5, American Ford Mondeo (formerly Sierra) and German Opel Insignia (earlier known as Vectra).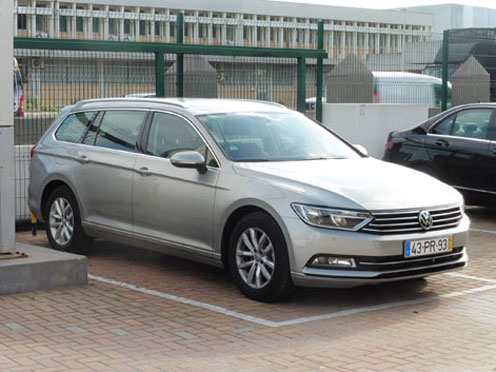 VW Passat rental in Lisbon Airport from Alamo car rental among others – © Photo: Lisbon-Cheap-Car-Hire.co.uk.
Rent the new VW Passat
The new Volkswagen is already available as a rental car at a handful of car rental companies in Portugal, and it is expected, that more will follow. The Volkswagen Passat was named 'Car of the Year 2015' in Europe.
Even though the popular Volkswagen mid-size car is experiencing an increase in price, it will probably not have an effect on the rental companies' eagerness for including the Passat as part of their rental fleet.
It has, most likely, something to do with the discount the rental companies get on the cars, and that the depreciation or loss in value on new models is small. Therefore, the price increase will, in all probability, not scare off Avis, Hertz, Sixt, Europcar and the other premium car rental brands in Europe.
VW Passat estate cars available for rent in Lisbon Airport
In Lisbon Airport, the majority of car rental customer go for small inexpensive vehicles when visiting the Portuguese capital or taking a beach holiday in Cascais-Estoril; the famous Portuguese Riviera west of Lisbon.
If you are traveling with a family or have arranged for a well-deserved golf break in Portugal with friends, chances are that you need a slightly larger vehicle.
Why not rent a proper station wagon?
Minibuses are basically commercial vans fitted with 9 seats and a more pleasant interior. The driving experience is more or less like a van although manufacturers tend to tell otherwise.
The MPV car hire option is appealing as many full size MPV cars are very luxurious indeed. They, unfortunately, tend to be expensive to hire – and for your purpose, the VW Sharan MPV, Renault Espace MPV or Ford Galaxy/S-Max MPV cars; all with 7 seats, may be slightly too heavy and hard to maneuver around town. And if you don't need 7 seats in the first place, the extra cost may be unjustified.
Why not go for renting a large estate car? You will find the following station wagon rental cars to be common in Portugal: Ford Mondeo Estate, Opel Insignia Sports Tourer and VW Passat Variant. All have room for 5 in comfort and an abundance of luggage space.
These are the more affordable large station wagons. If you go up a notch in class, prices for Mercedes, BMW or Audi Lisbon car rental usually increase by quite a significant amount of money.
The best value for money may actually be the VW Passat Variant, which is available at car rental companies like Alamo, Guerin and Enterprise in Lisbon Airport. Also Hertz, Avis and Europcar will frequently have VW Passat cars in their Lisbon rental fleets.
Please make sure to book your large Lisbon Airport estate car well in advance of your trip to Portugal, as they are in short supply.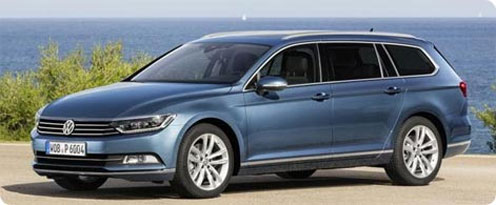 Renting a Passat Variant in Portugal can be surprisingly cheap © Photo: Lisbon-Cheap-Car-Hire.co.uk.
How much does it cost to rent a station wagon in Lisbon (large estate car)?
Rental rates for the Passat Variant will usually start from around 300 euros per week and in many cases, the car will be fitted with a diesel engine.
Please note, however, that prices for hire cars in Lisbon Airport fluctuate considerably. In high season, and especially when booking your car late, you may end up paying double or more for the exact same car due to increased demand.
It has also been seen that booking in low season just a day or two in advance can mean higher car rental rates, so best advice is to book well in advance when possible.
Rarely, you will be able to secure a particular make and model when booking, but in Portugal, the large estate cars found on the rental company parking will, very often, be the new VW Passat cars.