Hertz Portugal buys Citroen C-Elysée rental cars for fleet
The Hertz rental car cooperation operates all sorts of vehicles.
In fact, Hertz even has a heavy equipment rental branch in Portugal under the name of Hertz Equipment Rental.
See below Hertz 'telehandler' in action close to Lisbon at the Guincho Beach Billabong surfing festival in the late summer of 2013.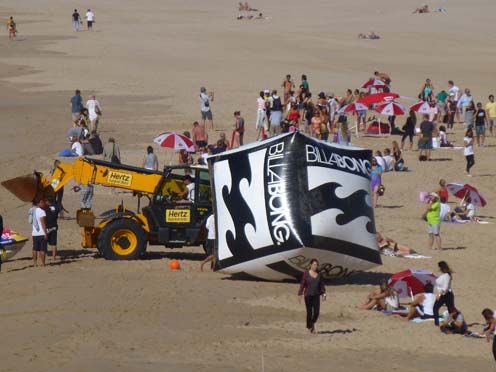 Hertz Equipment Rental in action © Photo: Lisbon-Cheap-Car-Hire.co.uk
Hertz car rental Portugal – new cars for 2014 season
Hertz Portugal is well known for shopping around for a good deal on hire cars for the fleet.
The large Lisbon rental provider will change its fleet with regular intervals and most cars will not see more than 1-2 years in the Hertz rental fleet.
The newest additions to Hertz Portugal in October 2013 are a good number of Citroën C-Elysée or just Citroen Elysée.
This particular Citroen rental car has the advantage of having a conventional spacious boot and 4 doors. The Elysée is assembled in Vigo in Spain (and in China from year 2014) and is only available for certain markets, where 4-door economy class vehicles are in favour.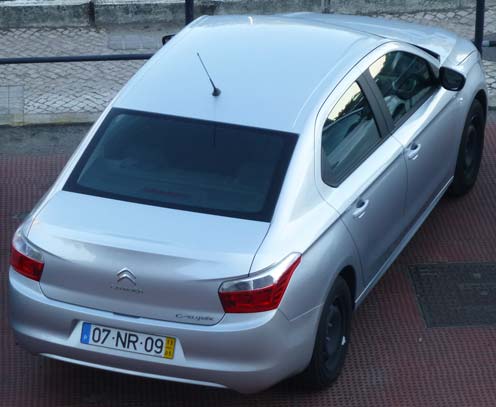 Citroen C-Elysée rental car Portugal (Hertz)
© Photo: Lisbon-Cheap-Car-Hire.co.uk
The Elysée is considered a 'cheapish' car model by European standards, but all current safety equipment is present including 4 airbags, ESP (Electronic Stability Program), ABS brakes (anti blocking brakes) and even a brake assist program which automatically helps the driver enforcing the pressure on the brake pedal if abrupt braking is needed.
A rugged and spacious family car – Citroen Elysée
In Europe, the Citroen Elysée is available in Portugal, Spain, France, Hungary, Poland, Czech Republic, Russia and several other Eastern European markets as well as in Turkey.
Alongside with the Elysée, the Citroen-Peugeot cooperation (PSA) also produces the Peugeot 301; an identical model except for minor trim and badging details.
The new PSA car has been extensively tested to comply with rough road surfaces. With a relatively high ride height, the Citroen Elysée will not be stopped by a bit of flood, and is even prepared for the occasional trip into dessert conditions.
Luggage space is quite exceptional in the new Hertz hire car. The Elysée boot manages to swallow an impressive 506 litres plus there is an additional 20 liters of space available in a hidden compartment under the trunk floor.
For even more space, the Elysée is equipped with split rear reclining seats.
Above the Peugeot 301/Citroen C-Elysée – test of the diesel version
Modern engine and lots of miles per gallon
Most rent-a-car Citroen Elysée models will come with the modern 1,2 litre VTi petrol engine with 72 bhp known from the Peugeot 208.
Rental customers with Hertz will experience a super-frugal vehicle if a key for a new Citroen C-Elysée is handed over at the counter for bookings in the economy class. The average miles per gallon is rated at 56,5 (equal to 23,8 km/l or 4,2 l/100 km) and emissions are low at only 115g co2 per km.
Citroen wants world market share
The Elysée is Citroën's largest investment in a worldwide sellable vehicle – in particular aimed at emerging markets.
It is, therefore, no surprise that the new Citroen WTCC race car presented on the Frankfurt Motor Show in 2013 was indeed a heavily modified Citroen C-Elysée.
The C-Elysée WTCC racer will be driven by no other than Citroën ace Sébastien Loeb.