A modern compact class car – Peugeot 308 5-door hatchback
For a medium sized car, the new model (2014-forward) Peugeot 308 is surprisingly spacious.
Introduced originally in the 1990's as the Peugeot 306, the mid-sized 'Lion' grew in size with the Peugeot 307 and in 2008, the first 308 model was launched.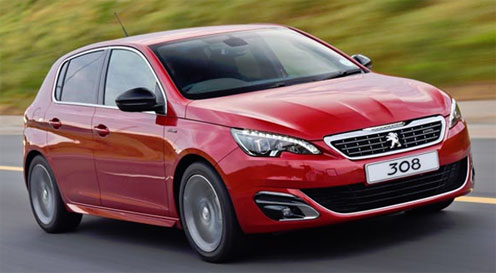 Amongst the best cars in compact class – Peugeot 308.
The Peugeot is widely considered to be one of the best compact cars in competition with the best from VW, Opel and Ford.
Test of Peugeot 308 – 2017 model.
So how does Peugeot do it? The answer is continuously improvements in quality, attention to design and refinement (the car is quiet to drive), comprehensive weight savings and a pricing policy just below the main competition with similarly equipped cars.
Luggage space in a Peugeot 308 – impressive
In terms of boot capacity, the 308 Peugeot comes in above the main competitors Astra, Focus and Golf.
Total capacity for luggage with 5 people in the car is an impressing 470 litres.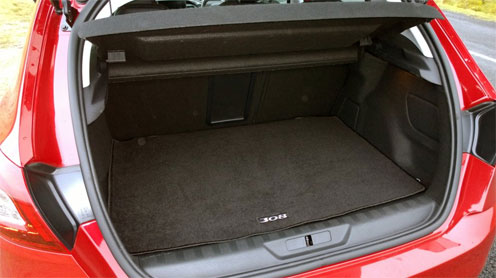 Best in class size of trunk.
The list of competitors to the Peugeot 308 is quite long, and includes a number of very good alternatives.
The best compact class cars
We recommend the following vehicles (best choice in compact car class):
Peugeot 308
Ford Focus – it's just a very nice car for the money – latest facelift model introduced in 2014
VW Golf – very unusual for an old (2012) model to rate this high
Opel Astra – new class breaking model introduced in 2015 (the old one was not-so-nice)
Other good compact class cars:
Renault Megane (new model 2015)
Hyundai i30 (new model 2016)
Seat Leon (a Spanish flavoured Golf)
Skoda Octavia (a slightly larger car with Golf underpinnings)
Honda Civic (new model arrives in 2017)
And the rest of them:
Citroen C4
Kia Cee'd
Toyota Auris
Mazda 3
Nissan Pulsar
In Peugeot terms, the 308 is the VW Golf
Peugeot decided to stick with the 308 designation at model change in 2014 – maybe as the name 309 had already been used in the 1980's when Peugeot took over an unfinished 'project' from acquired Chrysler-Talbot.
The forward-looking Peugeot 309 hatch was not a bad car, but became somewhat of an unwanted child in the Peugeot family. It was killed off in 1993 with the introduction of the 306.