Avis Rent-A-Car Portugal acquire BMW cars for luxury and prestige rental
Audi, BMW and Mercedes are amongst the most sought after prestige vehicles in Portugal.
Other premium brands in Portugal include Jaguar, Land Rover, Lexus and to some extent Alfa Romeo, but these car manufacturers have never really threatened the best of German engineering when it comes to prestige vehicle rental in Portugal.
Mini, which is part of BMW Group, is the exception. The iconic life-style car is found in the car parks of most major Lisbon hire car fleet operators.
BMW rental cars at Avis Portugal locations
Hertz in Portugal have a large number of BMW and Mini rental vehicles; many of them acquired in late 2012 and early 2013.
See more about Hertz Life Style cars for hire in Lisbon.
As of late 2013, Avis Rent-A-Car Portugal has upgraded its luxury offerings by adding a number of BMW 1-series, BMW 3-series, BMW 5-series and even a few BMW 7-series cars to the Lisbon rental fleet.
In Portugal, the colours of choice for prestige vehicles is almost exclusively black or different shades of grey – with a few exceptions in silver or white. Avis, naturally, follows local taste and go with black for the majority of the new BMW 3-series and 5-series cars available in the Lisbon area.
For the new 1-series BMW rental cars in the small hatchback prestige class, a few white vehicles have joined the Avis fleet in 2013.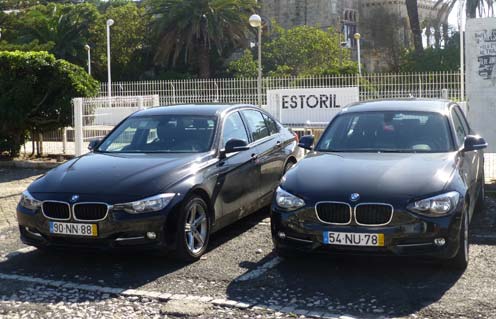 BMW cars for hire at Avis Estoril – © Photo: Lisbon-Cheap-Car-Hire.co.uk

Sport version of BMW 318d/BMW 320d at Avis Portugal
When renting a BMW 3-series in Portugal, chances are that the car will have a diesel engine.
The famous 2-litre BMW diesel comes in various forms ranging from the entry (but hardly basic) BMW 316d with 116 bhp to the more powerful BMW 320d with up to 188 bhp is a relaxed and extremely torqui engine. The car will easily cover 20 km per liter on long trips – or more if you adopt a frugal use of the 6th gear in the BMW from speeds around 80 km/h.
In Northern Europe and in the UK, BMW 3-series rental cars often are equipped with the least powerful engine option (BMW 316d). In Portugal, you are more likely to get the slightly more powerful BMW 318d (143 bhp) or the super-economic BMW 320d Efficent Dynamics with some 163 bhp on tap.
Even the BMW 316d is, in fact, a really nice vehicle with a comfortable, bordering to sporty ride. Speeds up to 180 km/h are effortlessly possible (it tops at around 200 km/h), but since speed limits in Portugal are max 120 km/h, the 316d engine is never stressed.
The Portuguese offerings of BMW 3-series rental cars (318d and 320d) are likely to be equipped with Sport Line pack, which means 17″ alloys, matt black exterior details, 'sport' side badges, sport steering wheel, sport front seats (better than standard seats) and interior details in contrasting red colour.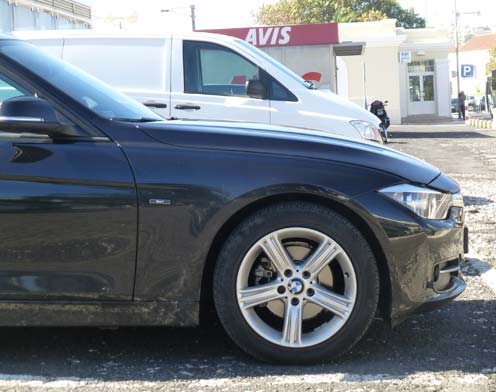 Avis 3-series BMW in Estoril, Portugal – © Photo: Lisbon-Cheap-Car-Hire.co.uk

Avis car hire in Portugal
Avis in Portugal is one of the country's largest rental car providers with offices in all major cities as well as in all major airports including on the islands of Madeira and Azores.
Previously the Avis franchise was a local Portuguese company which is still active in car rental in Portugal under the name of Aluvia.
Avis Portugal is part of Avis Europe. See more about Avis in Portugal.
Compare rental car prices in Portugal (Lisbon Airport)
For car rental rate comparison please use the Cartrawler search engine.
Most visitors to Portugal arrive in Lisbon Airport, Faro Airport or Porto Airport.